Ian Creasey — Home Page



Hello, and welcome to my website. Here you can find my latest news, my biographical and contact details, information about my published works, a few audio downloads of stories, and some links to my writers' groups. You can also sign up to my mailing list to hear about new book releases.




Latest Release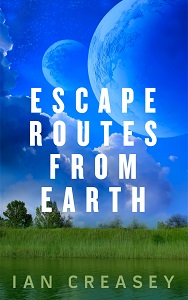 Escape Routes from Earth is a collection of fourteen SF stories, all previously published in magazines such as Asimov's Science Fiction.
The book is available in various formats at Amazon.com, Amazon.co.uk, and Smashwords.
For more details, including the full table of contents, click here.



Random Quote (refresh the page to see a new quote)





Latest News

15 October 2015 — My story "Bob's No-Kill Monster Shelter" has been published in the anthology Unidentified Funny Objects 4 edited by Alex Shvartsman. The story background is here.

20 September 2015 — I have guest posts at Tony Ballantyne's blog and Jacey Bedford's blog, talking about my writing habits etc.

14 September 2015 — The October/November 2015 issue of Asimov's is out now, containing my short story "My Time on Earth". The usual story background is here.

9 September 2015 — My collection Escape Routes from Earth is now available in print editions (large paperback, 6"x9") at Amazon.com and Amazon.co.uk.

2 September 2015 — My new short-story collection Escape Routes from Earth is now available in various electronic formats at Amazon.com, Amazon.co.uk, and Smashwords. Full details are here.

1 June 2015 — The July/August 2015 issue of Analog is out now, containing my short story "Pincushion Pete". The usual story details are here.

21 May 2015 — My story "The Adventures of Captain Contempt in Mixed Media Installations" has been podcasted at Fantasy Scroll Mag. More information about the story is here.

27 April 2015 — My story "Escape from the Andromedan Empire", originally published in the November 2013 issue of Orson Scott Card's InterGalactic Medicine Show, has been reprinted in a free sample issue. The story background is here.

13 April 2015 — My story "The Adventures of Captain Contempt in Mixed Media Installations" has been reprinted in the April issue of Fantasy Scroll Mag. More information about the story is here.

8 April 2015 — My novelette "Ministry of Karma" has been published in the anthology Insert Title Here edited by Tehani Wessely. The story background is here.

Older news can be found in the news archive.



Home page last updated: 15 October 2015